Brig. Gen. James Eifert
Assistant Adjutant General – Air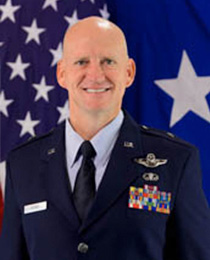 Brig. Gen. James Eifert is the Florida Air National Guard's Assistant Adjutant General – Air, and Commander, Florida Air National Guard.
A command pilot with more than 3,800 flying hours, Eifert started his Air Force career in the active component, graduating from the U.S. Air Force Academy in 1982, and serving his first operational fighter tour at Seymour Johnson AFB, N.C., in the F-4 Phantom. After transitioning to the F-15 Eagle and serving an operational flying tour at Bitburg AB Germany, Eifert joined the Hawaii Air National Guard in 1991, where he was selected to attend the prestigious United States Air Force Fighter Weapons School, and subsequently led the first-ever Air National Guard F-15 combat mission policing the Northern Iraq no-fly zone during Operation Provide Comfort. Eifert joined the Florida Air National Guard in 1995 and again deployed with the 125th Fighter Wing as its operations officer for combat operations over Iraq during Operation Northern Watch in 1998 and Operation Southern Watch in 2000. He has commanded at every level up to and including Wing Command.
His professional military education includes Squadron Officer School at Maxwell AFB, Air Command and Staff College, Air War College, and most recently he graduated from both the United States Northern Command Joint Task Force Commander and Dual Status Commander Courses. Brig Gen Eifert also served as the Chairman of the Air Dominance Weapons Systems Council, working national level F-15/F-22 issues and concerns while in command of the Wing.
His awards include the Legion of Merit, the Meritorious Service Medal with 3 Oak Leaf Clusters, the Air Force Commendation Medal with 2 Oak Leaf Clusters, the Air Force Achievement Medal with 2 Oak Leaf Clusters, the Air Force Outstanding Unit Award with Valor Device and 1 Silver Oak Leaf Cluster, the Combat Readiness Medal and the National Defense Service Medal.