Mr. Bouza is a State of Florida employee with the Florida Department of Military Affairs (DMA) and works as F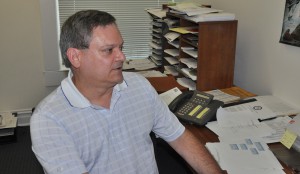 inance and Accounting Director III at the Florida National Guard Joint Force Headquarters.  He was recognized in September 2013 for his professional work.
Ed's dedication and commitment to the department is well above and beyond the call of duty.  He supervises the department's Finance and Accounting operations, managing and coordinating some of the most complex financial and budgetary requirements.
Ed's coordination with the Federal United States Property & Fiscal Office as well as Tallahassee budget analysts for information has proven successful, many times over, despite the geographical distances. 
Ed challenged himself by volunteering to assist the human resources office in completing all trainer requirements for the governor's new initiative in the performance management processes to become one of DMA's trainers to our state employees.
Although the new performance management duties took much of Ed's time in recent months, he continuously maintains and oversees operations along with providing the needed office supervision required.  He does not require any follow-up on tasks and he consistently and exceptionally performs all his duties in a manner worth emulating, providing exceptional service with dedication and loyalty expected by the citizens of the State of Florida, the Florida National Guard and the Department of Military Affairs.
# # #