Major General Emmett R. Titshaw Jr.
The Adjutant General of Florida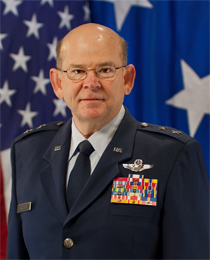 Major General Emmett R. Titshaw Jr. assumed duties as the Adjutant General of Florida on June 26, 2010. He previously served as Special Assistant to the Director, Air National Guard and also as the Air National Guard Advisor to the Chief of Staff, United States Air Force. In this position, General Titshaw advised the Chief of Staff and senior Air Force leadership on how best to organize, train, equip, and employ the Air National Guard.
General Titshaw enlisted in the Florida Air National Guard in May 1970 and received a direct commission the same year. In 1972, he completed Undergraduate Pilot Training at Columbus Air Force Base, Mississippi, receiving the Distinguished Graduate Award. After earning his wings, General Titshaw was assigned as a Squadron Fighter Pilot, 159th Fighter Interceptor Squadron, Jacksonville, Florida.