To help commemorate Earth Day throughout the month, it is appropriate to recognize members of the Camp Blanding Joint Training Center Environmental Section. 
The first member is Jerry Kerce, a State of Florida employee with the Florida Department of Military Affairs (DMA), serving as Environmental Specialist II at the Camp Blanding Joint Training Center.  He was submitted for the Governor's Spotlight recognition program.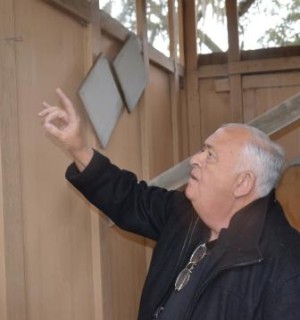 According to DMA's human resources office, Kerce consistently and exceptionally performs his duties in a manner worth emulating.  His environmental expertise, overall management experience, and consistent display of a positive attitude and work ethic are indicative of the great asset he is to the Camp Blanding Environmental section.  
Kerce and other members of the environmental section (representing the Florida National Guard team) were announced in October 2013 of their third place finish, out of 54 states and territories, for the 2013 Federal Environmental Quality-Non-Industrial Installation Award.   (Photo:  Jerry Kerce inspects pesticide application panels used in the research huts at Camp Blanding.)            
He has proven himself, time after time, providing exceptional service with dedication and loyalty expected by the citizens of the State of Florida, the Florida National Guard and the Department of Military Affairs.
When discussing Camp Blanding environmental awards, Kerce is quick to point out the teamwork to make the program successful.  "There are a lot of people who have their part in the types of things we do here with our entomological research and development.  It takes a team to have something like that go off.  We have a team here."    
As Kerce reiterated, environmental conservation has long been a strong tradition of the 73,000-acre military training post located in northeast Florida.  The installation boasts a wealth of diverse and rare wildlife, so all prospective projects are reviewed for compatibility with environmental goals. 
The staff is diligent in screening pesticides to ensure they pose no risk to fragile species or Soldiers [including Airmen and others visiting or training at Camp Blanding]. 
"We take this very seriously," added Kerce, "and have taken voluntary regulatory steps to ensure human and environmental health and safety, including maintaining state permits for dispensing aerial pesticides and ensuring the highest standards or watershed preservation."    
By conducting tests on the kinds of construction materials in the field under realistic, natural conditions, Camp Blanding and its partners are vastly changing the landscape for simplifying pest management practices. 
Several projects also have potential for widespread implementation, such as testing novel treatment methodologies for controlling or eliminating bed bugs in military billeting and buildings. 
"Our environmental staff is relentless in pursuing studies with the potential for meaningful, quality-of-life improvements for America's deployed service members," states Kerce.  "The global impact for preventing disease and human suffering in both rural and urban centers is enormous."
Kerce adds: "We are humbled by the opportunity to work with the extraordinary talents of our partner agencies in the environmental community.  Their support and expertise in finding and putting into place workable solutions to significantly improve outcomes makes all the difference."
###
About the Florida Department of Military Affairs.  The Florida Department of Military Affairs provides management oversight of the Florida National Guard, and provides units and personnel ready to support national security objectives; to protect the public safety of citizens; and to contribute to national, state and community programs that add value to the United States of America and to the State of Florida. The Department of Military Affairs, a state agency created by Chapter 250, Florida Statutes, oversees and provides administrative support to the Florida National Guard. Directly responsive to the Governor of Florida, the Department and the Florida National Guard together operate within the policy guidance and fiscal framework of both federal and state authorities.