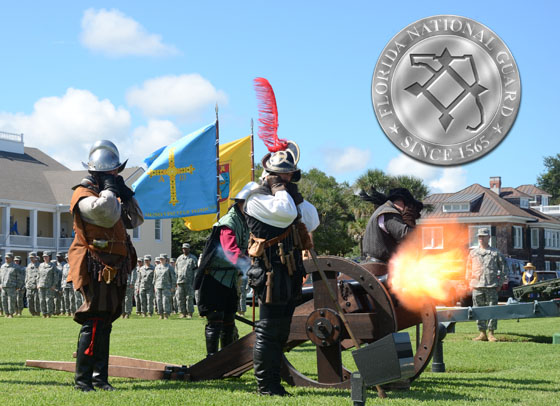 Florida National Guard readies for First Muster 450th celebration
ST. AUGUSTINE, Fla. (Oct. 30, 2014) – When Spanish settlers laid the first stones for buildings in St. Augustine nearly 450 years ago, they probably didn't realize their arrival in Florida had also laid the foundations for a long and proud militia tradition – a tradition reflected today in the men and women of the Florida National Guard.
The first muster of militia troops – in what would later become the continental United States – took place on Sept. 16, 1565, in the newly established Spanish military town of St. Augustine. The muster was held during the onset of a hurricane and the militia men were assigned to guard the expedition's supplies while their leader, Pedro Menendez de Aviles, took the regular troops north to attack the French settlement at Fort Caroline on the St. Johns River. Today St. Augustine has the distinction of being the oldest permanently occupied European settlement in North America.
The "First Muster" of military – and the first engagement of Florida militia with Native Americans in St. Augustine – are believed to have occured at what is now the Fountain of Youth Archeological Park.
As Sept. 16, 2015, will mark the 450th anniversary of the First Muster, the Florida National Guard and the Florida Department of Military Affairs will commemorate the occasion with a ceremony at the Florida National Guard headquarters in downtown St. Augustine. Each September the men and women of the Florida National Guard family celebrate a First Muster ceremony on the newly named Patriot Field in front of historic St. Francis Barracks. This year however, will have special focus, as it will be four-and-a-half centuries since the first Spanish citizen-Soldier took up arms on our soil to serve and protect other citizens.
###