By 1st Lt. Theresa DiPinto
164th Air Defense Artillery
ORLANDO (April 1, 2011) — Soldiers and numerous distinguished guests filled the parking lot of the 164th Air Defense Artillery (ADA) Brigade on Sunday, March 6, to watch as the Brigade Commander, Brig. Gen. Frank S. Laudano, formally received his star.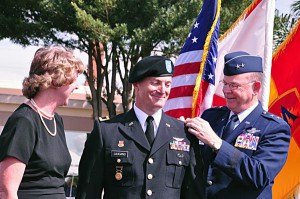 "It's been a remarkable career," said Maj. Gen. Emmett Titshaw, the Adjutant General of Florida.
Brig. Gen. Laudano was officially promoted in the ceremony where his wife, Jane, and Maj. Gen. Titshaw pinned on his stars under the proud eye of his peers, his unit, and his family. In addition, his parents, Frank Sr. and Lucy, changed out his shoulder boards. Notable attendees included former Assistant Adjutant General –Army Brig. Gen. (Ret.) Richard Capps, and current Assistant Adjutant General –Army Maj. Gen. Don Tyre; both previously held the title of 164th Brigade Commander.
Laudano offered thanks to his family, several of his key supporters, and all the Soldiers of the 164th.
"I have risen to this level standing firmly on your shoulders," he said during his remarks.
VIPS traveled from units all over the state for the afternoon ceremony to offer their congratulations and reminisce about their earlier years together. Attesting to Brig. Gen. Laudano's far-reaching popularity, several VIPs even flew in from Washington, D.C. and South Carolina in order to be a part of the festivities. 164th has a long-standing relationship with the South Carolina Army National Guard thanks to concurrent mobilizations in Washington, D.C.
State Chaplain Lt. Col. Tony Clark offered the closing remarks, reminding all, "We are here to laud the rising of another star." Following the ceremony, Laudano and his wife held a catered reception for the guests so they could relax, eat, and mingle.
Brig. Gen. Laudano has been the commander of the 164th Air Defense Artillery Brigade since 2009.. The unit, based out of Orlando, is composed of two air defense artillery battalions, one transportation battalion, and one field artillery battalion. It currently has Soldiers deployed to the National Capital Region, Afghanistan, and Iraq.
Laudano is a native of New Haven, Connecticut. He is a 1980 graduate of Georgia Military College where he earned an Associate Degree in General Studies and a commission as a Second Lieutenant in the United States Army. He earned his Bachelor of Science Degree in Mathematics Education at the University of South Florida and a Masters Degree in Strategic Studies from the Army War College.
Laudano's military education includes the Field Artillery Officer Basic and Advance Courses, the Rotary Wing Aviator Course, the Aircraft Maintenance Officer Repair Technician and Test Pilot Course, the Army Command and General Staff College, and the Army War College.
Laudano assumed duties as the Commander of the 164th Air Defense Artillery Brigade on May 3, 2009. His previous assignments included: Deputy Commander for the 164th Air Defense Artillery Brigade, Task Force Osprey Commander, Deputy Chief of Staff for the 32nd Army Air and Missile Defense Command, Commander and Battalion Operations Officer, 3-116th Field Artillery Battalion, MLRS, Florida Army National Guard; Executive Officer, Battalion S4, Alpha and Service Battery Commander, 2-116th Field Artillery Battalion, DS, Florida Army National Guard; Echo Troop Commander, 2/17th Air Cavalry Squadron, Ft. Campbell Kentucky; Battalion S4, 229th Aviation Intermediate Maintenance Battalion, Ft. Campbell, Kentucky; Battery Executive Officer and Fire Support Officer, Headquarters and Headquarters Battery, 1st Battalion, 3rd Field Artillery, Ft. Hood, Texas.
###